Chancellor's Message
---
MS. SHALLU JINDAL
Chancellor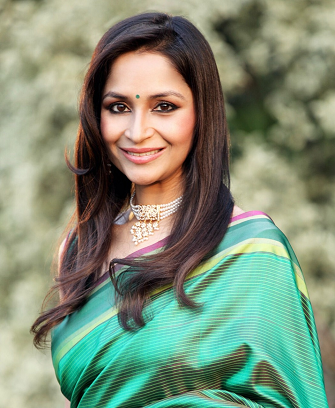 I have great pleasure in welcoming the students to O P Jindal University established in the fond memory of Shri O P Jindal , a great philanthropist, statesman, and industrialist. The University aspires to educate and train the Indian youth to take up the challenges of the future with capability and confidence. The dedicated staff works incessantly to provide an ambience that nurtures creativity and innovative problem solving skills in the students.
Renowned academicians across the world are associated with the University. Collaboration with university of Texas at Dallas USA, Colorado State University USA and Changwon National University South Korea has been established to support the University. The teachers share their research experience with the students to make them inquisitive. They replace the fear of ignorance from the minds of the students by infusing the joy of learning and by encouraging them to questioning. The students are made to learn by doing and experimenting in the state of art laboratories and workshops.
For students of School of Engineering, provision for completing the Programme of B.E in a particular branch of engineering along with a Minor field is available. Such a provision enhances and enlarges the scope for high employment opportunities.The School of Engineering has the privilege of utilizing the facilities of industrial plants of Jindal Steel and Power in its proximity at Raigarh. A unique and unparallel system of education and training is adopted by deputing the students as internees in the plant for a fixed period during their course of study. They are made to indentify live problems from the plant and work on them under the joint guidance of faculty and plant engineers. This "Problem Based Learning" enables them to become industry ready. In addition, a variety of elective courses are made available to them for multifaceted capabilities as an outcome of four years Engineering Degree Programme. The curriculum is designed and pedagogy evolved so as to enable the learners to reach the pinnacle of success. The learning environment is made so conducive that the students unleash their potential while interacting with teachers and practitioners from the profession.
The prime objective of the University is to provide the kind of education that enables students to become enlightened citizens by acquiring human values and life skills along with knowledge and understanding leading to enhanced employability and entrepreneurship. The pattern of education is therefore value based, innovation driven and employment oriented. The University is committed to produce employable and enterprising graduates and postgraduates who will be preferred by the organizations looking for knowledgeable, productive and responsible manpower.
I am quite confident that the University will soon transform itself from budding state to the state of a world class academic institution.
I wish the entire community of the University a great successful future.