OP Jindal University -Accommodations Indeed, hostel life is the most exuberant time in any student's life and undeniably an enduring experience amongst the treasured moments.
OP Jindal University (OPJU) was set up to bring high-quality education to its students with a world-class curriculum, the latest teaching methodology and committed faculty members.
The multidisciplinary university aims to develop young professionals and future leaders who will power growth and development in the state and make a mark globally.
At the core of the university's philosophy and approach lies the belief that students learn best when exposed to real world situations and when nurtured through enriching interactions with practitioners and professors. We at OPJU believe that every student has innate potential that can unlock through quality teaching and mentorship. With time students develop the virtues of punctuality, regularity and discipline and build self-confidence. The essential element of hostel life is the probability of making new friends. Students from different families with different habits stay together under one roof, which empowers the ability to develop a good understanding of different natures and minds.
OPJU University, over the past fourteen years, has established a culture of a safe and secure environment at its hostels, governed by an administrative body that includes the warden, the assistant warden, caretakers, etc. whose residences are located at a walkable distance from the three hostels. Hall of Residence -1, Hall of Residence-2 and Hall of Residence-3 offers a variety of accommodation options from Single, Two, and Three having options like AC / Non AC rooms. The students have the choice to select as per their suitability. The plethora of committees and subcommittees, disciplinary policies help to reinforce the safe and healthy environment of each hostel campus.
The overall human resources, infrastructure and ambiance are such that any fresher gets easily absorbed into the atmosphere.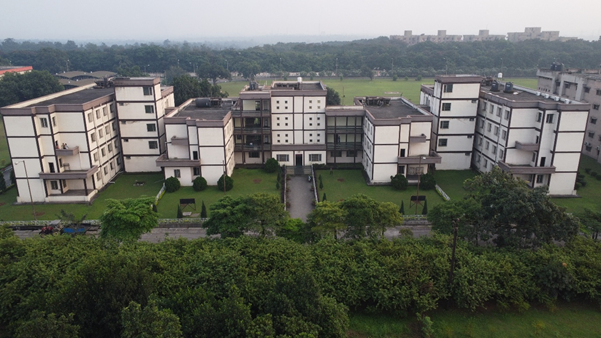 HALLS OF RESIDENCE :
The Institute is fully residential and provides accommodation facilities for all students. The name of the halls, type of accommodation and student strength are listed as follows;
| SN | Name of hall residence | Type of Accommodation | No. of seats |
| --- | --- | --- | --- |
| 1. | Hall of Residence 1 | Single and double occupancy, AC and NON AC: Boys | 472 |
| 2. | Hall of Residence 2 | Single, double and triple occupancy, Ac and Non Ac: Boys | 528 |
| 3. | Hall of Residence 3 | Single, Double and Triple occupancy: Girls | 350 |
Each hall enjoys administrative and financial autonomy and looks after itself. Apart from the Warden and the Assistant Warden, appointed by the institute and essentially serving as advisors, the students play an active role in managing their affairs.
Every hall shall have a Hall Executive Committee (HEC) consisting of elected student representatives. This committee, guided by the wardens, looks after all affairs of the hall administration, including mess, finance and personnel.
Maintenance of existing infrastructure involving expertise and funds, such as routine electrical, plumbing, sanitation, carpentry and civil work, is best managed from the office of the Chief Warden. However, the individual halls can take a part of the responsibility. The office of the Chief Warden shall also have supervisory authority and responsibility to ensure the maintenance of safety and hygiene of all residents of halls.
Hall Administration
The guiding principles of Hall Administration are:
To promote a spirit of brotherhood among all students of the Institute, bridging differences in home state, academic programme, branch of study, food habits and cultural preferences.

To promote sense of coexistence, cooperation and mutual trust among all residents of halls.

To maintain discipline for creating superior academic and social environment in the halls.

To provide opportunities to the students for developing managerial skills by providing autonomy of hall management.

To help create a truly multi-cultural environment where students from diverse cultural backgrounds share each other's experiences in most cordial manner.

To take care of security of the students and their belongings.

To install moral values, particularly sincerity, commitment, and involvement among all residents.

To help students conquer regional differences and graduate with national pride and international outlook.
How to Apply
Seats are distributed among the students of all the streams.

Admission is given as per academic records & on a first come- first served basis.

Availability of vacancies should be checked well in advance.

Hostel registration forms, available during Hostel admissions in the Hostel Administrative Office at OPJU Hostel, are to be filled and submitted to the wardens.

Registration forms duly filled are to be submitted to the wardens immediately after completing college admission formalities. A college fee receipt is required to be shown at the time of registration.
Facilities:
All Three hostel blocks facilitate the comfortable stay of the residents through nicely developed infrastructure like:
Mess and Dining Hall- Spacious, neat and clean dining space with the best infrastructure

Common Hall- Along with watching T.V., students can carry out birthday celebrations etc.

Each resident is provided with a bed, one built-in wardrobe / Amirah, a chest of drawers, one study table and a chair for each student. Every room has a mattress, ceiling fan, Wi-Fi facility and a waste paper basket.

Resident students are required to bring their pillow, quilt, blankets, bed linen, towels, curtains, bucket and mug, coffee mug and spoon (any other personal utensils), thermos flask, torch, hot water bottle, thermometer, lock and key and duster (for dusting their rooms). Cooking is strictly prohibited in the rooms.

Laundry Facilities- Ironing and washing services are available

Purified drinking water facility in common areas on every floor with 24 hours supply. All the toilets with a continuous water supply and bathing units have the provision of hot water taps.

Sports Facilities- The beauty of OPJU Campus lies in the sports infrastructure available for the residents. Along with the extensive playgrounds, it offers a wide range of sports activities such as badminton courts, basketball court, volley ball court, gymnasium (both Indore and outdoor), Indore sports like caroms, table tennis, pool table, chess etc.
Hostel Mess:
The student's mess committee looks after the entire mess management. The committee is responsible for deciding the menu and maintaining good quality and hygienic conditions inside the mess.
The mess committee decides and displays the monthly mess menu as per the suggestions received from the hostel inmates. Every year, the mess rules are framed in a meeting of mess committees and wardens at the beginning of the session.
Rules and Policy Structure
Campus life in the hostel premises is enthusiastic, with festive celebrations, cultural celebrations, meditation along with fitness activities. However, to achieve this, equal concern for food and health, cleanliness and hygiene, discipline and success, pleasure and excitement have been given through the following rules and policy structure.
General Discipline:
RAGGING in any form is STRICTLY PROHIBITED.

No student should accompany their friend's parents or relatives after 9.30 pm, and no parent has the authority to take their ward's hostility friends out with them after 9.30 pm without permission of the warden.

No student will be allowed to report/proceed to hometown/from hometown after 10:30 pm and before 5:00 am unless prior permission of the Wardens and Chief Warden.

All the students are informed to sign the attendance muster at 8.30 pm otherwise they will be liable for a fine.

Other than institutional visits, picnics and educational tours no student is allowed to go on picnics, or trips without proper intimation and permission from the institute authority. Strict action will be taken on violation of this rule.
Regulations for Residents:
The resident is responsible for the care and maintenance of the room and furniture provided, including locks and latches. Residents are expected to keep their rooms and surroundings tidy. It is anticipated that residents will not disfigure the wall with additional nails, and no pictures fixed on the wall or cupboard.

Any vandalism will be subject to strict punitive action.

Rooms are subject to check by the Warden / caretakers / chief warden at any time.

Light and fan should be switched off while leaving the rooms.

Residents must maintain silence in the rooms and corridors. Every student is expected to be in their room and maintain silence after 11 P.M.

No cooking or ironing is allowed inside the room.

Residents should ensure that they do not indulge in any activity in the room that causes disturbance to roommates or other residents.

The common room is for the exclusive use of the residents.

Residents should not move the furniture out from the common room to any other place in the hostel.

All common areas, including corridors, should be clean and litter free. Any violation of this will invite a penalty.

Students should not carry any utensils out of the mess area. Food will be provided to the rooms only on a medical basis on prior intimation to the warden's office.

Damaging any infrastructure in the hostel premises will lead to rustication or charging a fine depending on the value of the damaged item.
Disciplines for Health:
Students suffering from a chronic illness or requiring exceptional dietary and other cases are advised not to apply for the hostel.

Residents must have the required immunization.

All residents must report immediately to the hostel authorities for any major and minor illness.

Students can utilize the first aid kit facility available in the warden office for minor health issues.

Residents must have their complete medical files during their stay in the hostel.

In case of any health emergency, the student will be admitted to the Fortis OP Jindal Hospital and Research Centre. The student or LG/Parents will bear the total cost of the treatment. The LG / Parents are required to take charge of the patient thereafter.
Disciplines for Visitors and Guests:
Resident students may receive visitors between 5.30 p.m. to 9.30 p.m.

Visitors must sign in the register with the security at the hostel gate or warden office, every time they visit.

No visitors are allowed to enter the hostel except during visiting hours.

The hostel administration reserves the right to deny entry into the Hostel visitor's room to any visitor who fails to prove his / her identity or provide valid reasons for visiting the hostel.

Guests are permitted to stay in the hostel with the prior permission of the hostel authority (wardens or Chief Warden).

Any unauthorized entry or stay in the hostel is strictly prohibited.

Guests must require to sign in a register (maintained for this purpose) on arrival and departure.

All guests are required to follow the rules of the hostel.

The Warden reserves the right to refuse admission or any guest's stay at any time without prior notice.
Management:
All the student activities in hostels are managed by the students.
Following committees are nominated by the wardens every year –
Mess Committee: The mess committee is responsible for managing the mess.

Maintenance Committee: The Maintenance Committee is responsible for minor repairing and maintenance of hostel amenities.

Magazine Committee: The Magazine Committee is responsible for purchase and maintenance of magazines and newspapers for hostel inmates.

Sports Committee: Sports committee is responsible for purchase and maintenance of sport items for indoor and outdoor games..
Boy's Hostel Authority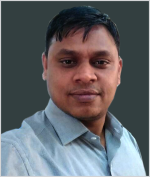 Dr. Surendra Dwiwedi
(Chief Warden)
(Associate Professor of Mechanical Engineering) Phone :
+91-9109977022



Girl's Hostel Authority