Founded by the Jindal Education and Welfare Society, OP Jindal University (OPJU) was set up to bring high quality education to its students based on a world class curriculum, the latest teaching methodology and committed faculty members. The multidisciplinary university aims to develop young professionals and future leaders who will not only power growth and development in the state, but also make a mark globally.

At the core of the university's philosophy and approach lies the belief that students learn best when exposed to real world situations and when nurtured through enriching interactions with practitioners and professors. We at OPJU believe that every student has innate potential that can be unlocked through quality teaching and mentorship.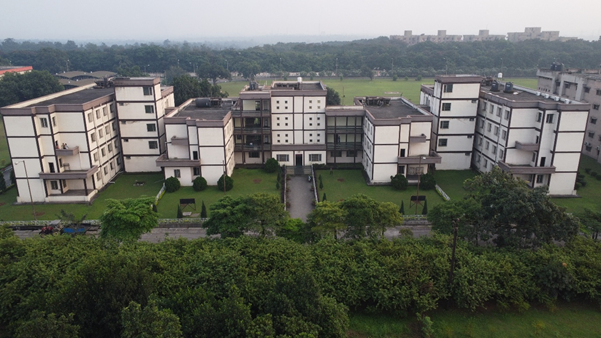 HALLS OF RESIDENCE :
The Institute is fully residential and provides accommodation facilities for all students. The name of the halls, type of accommodation and student strength are listed as follows;
| SN | Name of hall residence | Type of Accommodation | No. of seats |
| --- | --- | --- | --- |
| 1. | Hall of Residence 1 | Single and double occupancy, AC and NON AC: Boys | 472 |
| 2. | Hall of Residence 2 | Single, double and triple occupancy, Ac and Non Ac: Boys | 528 |
| 3. | Hall of Residence 3 | Single, Double and Triple occupancy: Girls | 350 |
Each individual hall enjoys administrative and financial autonomy and looks after itself. Apart from the Warden and the Assistant Warden, who are appointed by the Institute and serve essentially as advisors, the students play active role in management of their own affairs.
Every hall shall have a Hall Executive Committee (HEC) consisting of elected student representatives. This committee, guided by the wardens, looks after all affairs of the hall administration including mess, finance and personnel.
Maintenance of existing infrastructure involving expertise and funds, such as routine electrical, plumbing, sanitation, carpentry and civil work is best managed from the office of the Chief Warden, although a part of the responsibility can be taken by the individual halls. The office of the Chief Warden shall also have supervisory authority and responsibility to ensure maintenance of safety and hygiene of all residents of halls.
Hall Administration
The guiding principles of Hall Administration are:
To promote a spirit of brotherhood among all students of the Institute, bridging differences in home state, academic programme, branch of study, food habits and cultural preferences.

To promote sense of coexistence, cooperation and mutual trust among all residents of halls.

To maintain discipline for creating superior academic and social environment in the halls.

To provide opportunities to the students for developing managerial skills by providing autonomy of hall management.

To help create a truly multi-cultural environment where students from diverse cultural backgrounds share each other's experiences in most cordial manner.

To take care of security of the students and their belongings.

To install moral values, particularly sincerity, commitment, and involvement among all residents.

To help students conquer regional differences and graduate with national pride and international outlook.
Hostel Facilities:
| Facility | Hall of Residence 01 | Hall of Residence 02 | Hall of Residence 03 |
| --- | --- | --- | --- |
| Dining Halls | 0 | 1 | 1 |
| Water coolers with purifiers | 8 | 10 | 6 |
| LED Television with DTH service | 1 | 1 | 1 |
| Guest Rooms for Parents/ Guardians | 1 | 2 | 1 |
| Rooms for participants of Conference/Seminar/ Course | - | 1 | - |
| Table Tennis Tables | 2 | 1 | 1 |
| Lifts | 0 | 2 | 0 |
| Pool table | 1 | 1 | 0 |
Note (for I year students): The first year students joining hostels will be provided with a bed, mattress, bed sheet, Almira, study table, chair and cloth stand.
Hostel Mess:
The hostel messes are run as students' cooperative mess and are managed by student mess committees of respective hostels. The entire management of the mess is looked after by the student's mess committee. The committee is responsible for purchase, cooking, maintaining good quality and hygienic conditions inside the mess. The weakly mess menu is decided and displayed by the mess committee as per the suggestions received from the hostel inmates. Every year, at the beginning of the session, the mess rules are framed in a meeting of mess committees and wardens.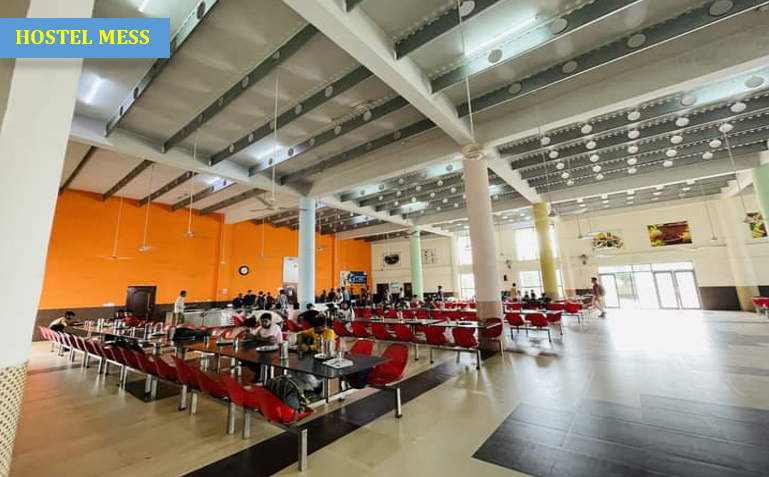 Management:
All the student activities in hostels are managed by the students.
Following committees are nominated by the wardens every year –
Mess Committee: The mess committee is responsible for managing the mess.

Maintenance Committee: The Maintenance Committee is responsible for minor repairing and maintenance of hostel amenities.

Magazine Committee: The Magazine Committee is responsible for purchase and maintenance of magazines and newspapers for hostel inmates.

Sports Committee: Sports committee is responsible for purchase and maintenance of sport items for indoor and outdoor games..
Boy's Hostel Authority
Girl's Hostel Authority