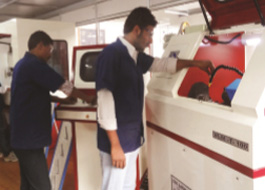 Learning is not confined to lecture rooms. Rather, a keen student is always experimenting and observing the world around. Advances in technology allow us to bring the best learning experience into classrooms.
At OPJU School of Engineering , students can experience learning infrastructure unparalleled in the region. Highlights include:
Live classrooms and tele-presence to enable faculty from other premium institutions around the world to teach OPJU students
3-D virtual learning laboratories to promote learning
Digital library and online lecture resources accessible to students anywhere and anytime
100% Wi-Fi enabled campus
Advanced labs in metallurgy, machining and mechanical simulation, robotics, mobile app development, wind-tunnel etc.