Vice Chancellor's Message
Dr PRABHU AGGARWAL
Vice Chancellor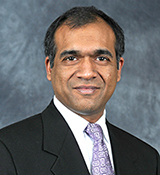 Welcome. As the Vice Chancellor, it is my privilege to introduce you to O P Jindal University (OPJU), at Raigarh (Chhattisgarh). At it's very core, the University's philosophy and approach lies in the belief that students learn best when they learn by doing and when nurtured through enriching interactions with practitioners and professors.
Beginning with the School of Engineering, OPJU will be creating new benchmarks in quality education, through best in class education, student experiences, and a strong focus on developing students as well-rounded professionals, and not mere graduates.
The students at OPJU will also benefit from close links with the industry- which we have strong tie-ups, ensuring many opportunities to engage in real-world projects, industry mentors, and enhanced employability opportunities.
Led by educationalists with global experience and with collaborations with leading institutions from around the world, OPJU will allow students to pursue opportunities at the post-graduate level with many of its global partners.
OPJU boasts of a modern and safe campus including fully residential hostels for boys and girls, dining facilities, outdoor sport fields, gymnasium, a medical unit, and other cultural clubs.
We invite all students who have the hunger to learn and dream to make a difference in their lives and the lives of those around them to visit O P Jindal University, Raigarh(Chhattisgarh).